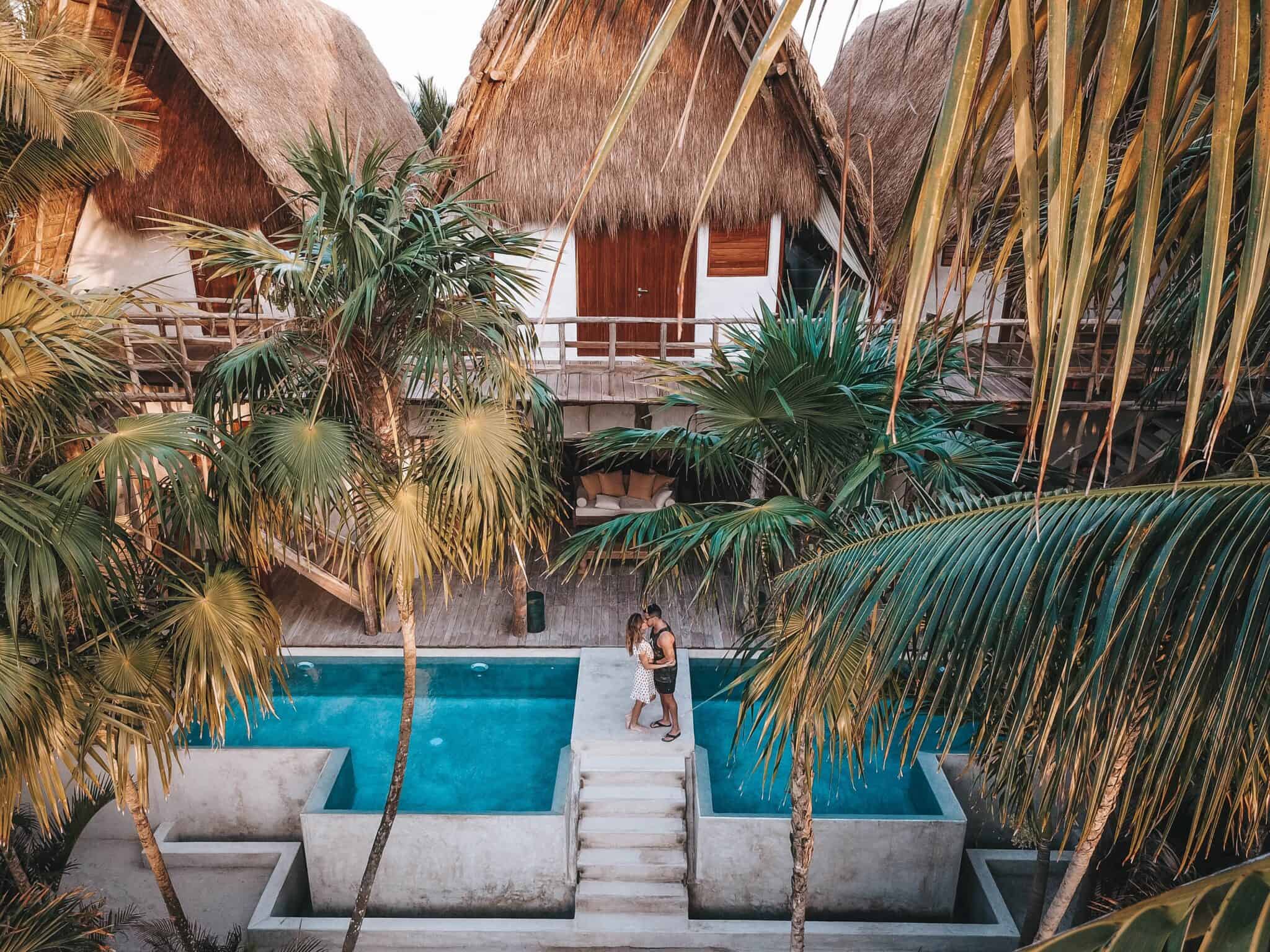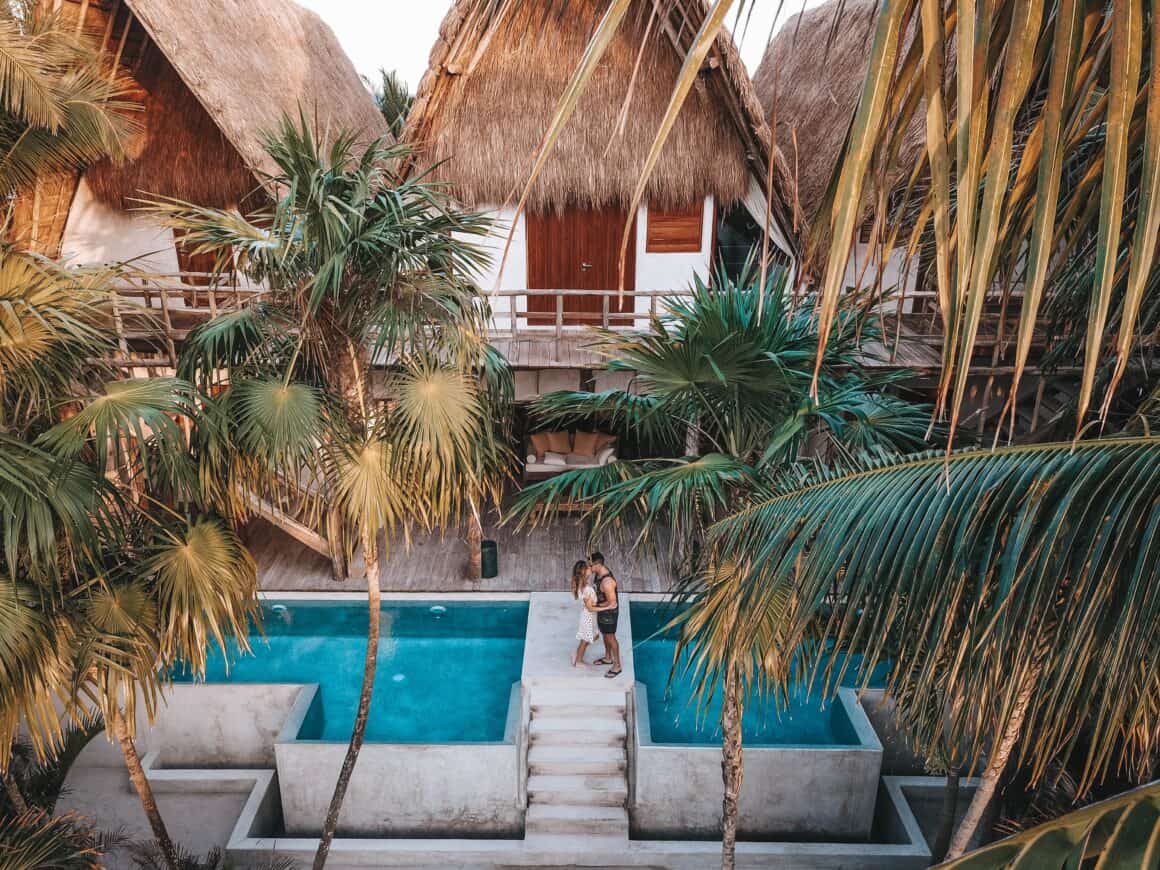 Best Area to Stay in Tulum
If you're like me, you're always looking for the best spots to stay in town anywhere you travel. Tulum is a unique destination in Mexico where deciding on a place to stay can give you completely different experiences. Stay in The Pueblo or The Beach is a long-running debate when traveling to Tulum.
The Pueblo gives more local, budget-friendly options, but it may be worth spending a bit more to have the beach within walking distance. We'll check out the pros and cons of staying in different areas in Tulum. You'll even get some great recommendations for the best hotel in each area. You can book tours to popular destinations like the cenotes from kiosks in just about every part of town.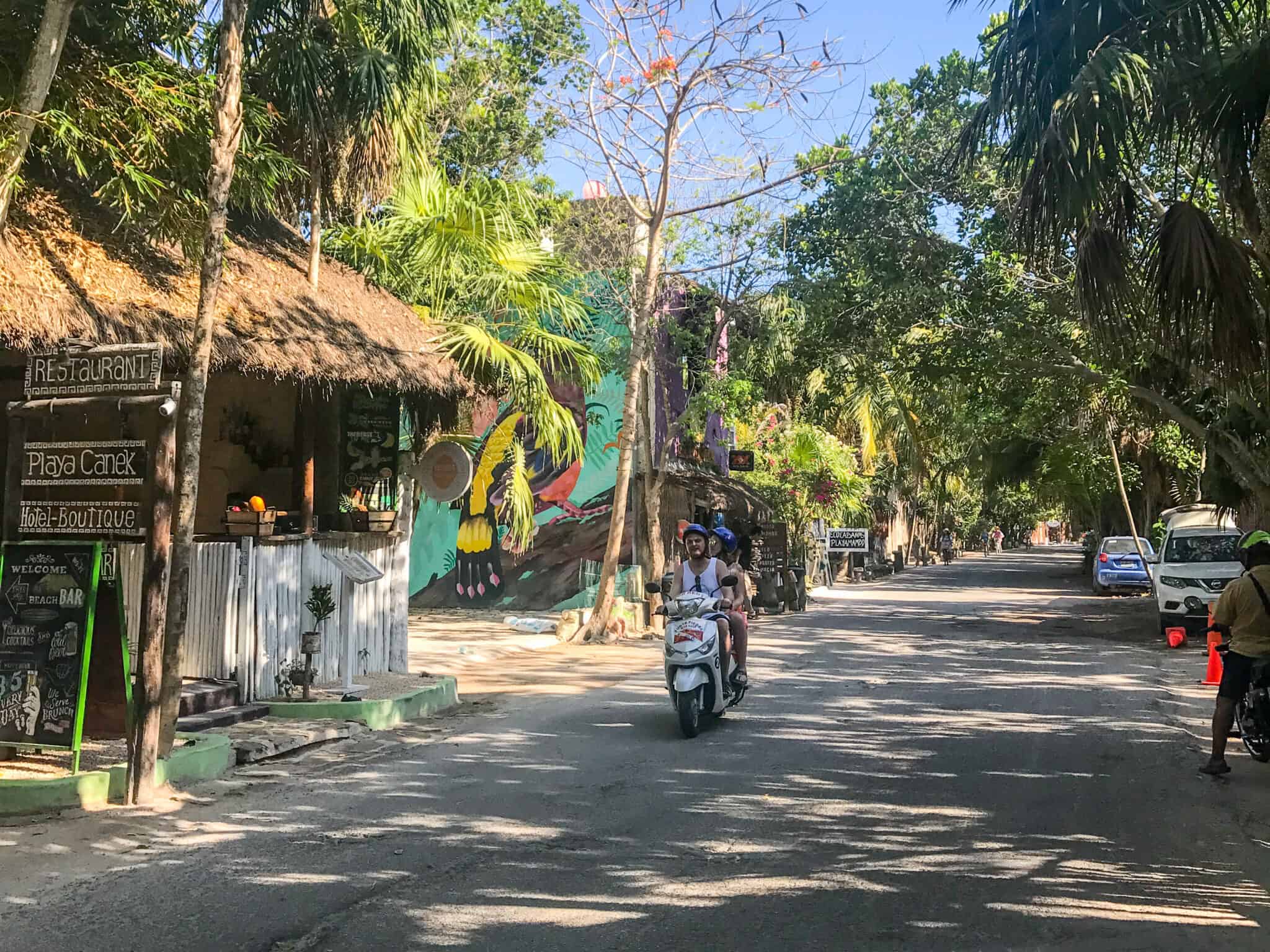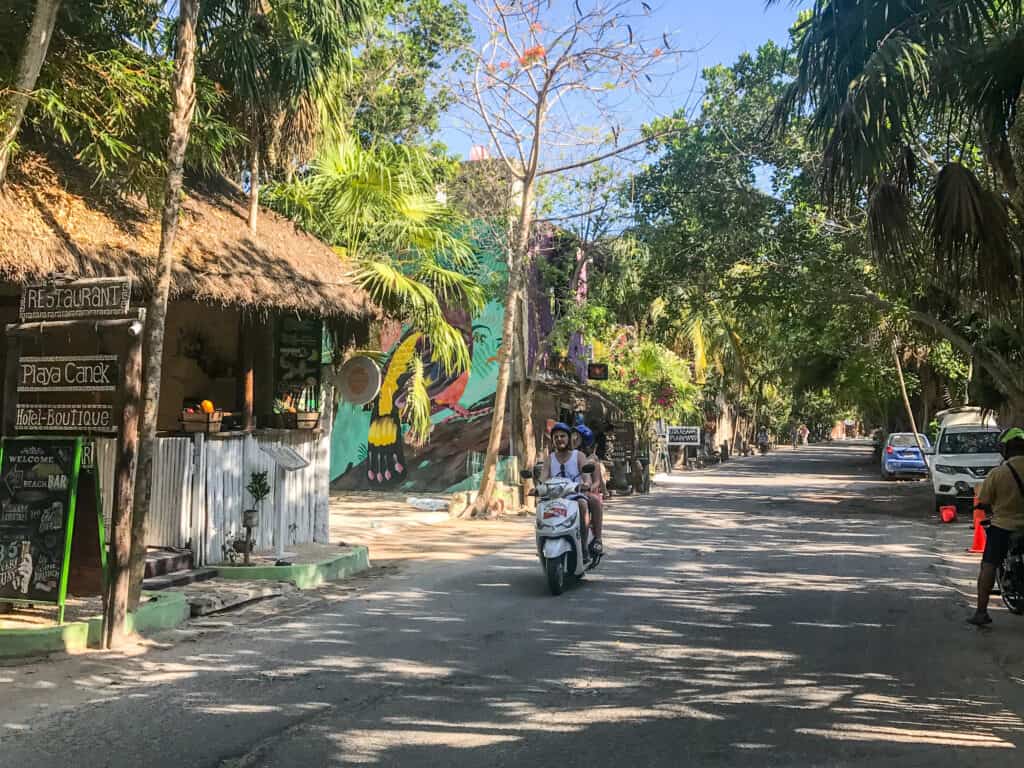 The Pueblo
The Pueblo is what the locals use to refer to Tulum Town. Tulum Town refers to downtown Tulum located approximately 3-miles away from the beach. It's one of the main areas to consider when looking for Tulum accommodations. You'll find many of the best hotels and hostels in Tulum downtown.
Tulum Town is a tourist favorite when visiting Tulum. I personally think this is the best area to stay in Tulum. There are plenty of restaurants, bars, and shops to check out. The pueblo also has some of the best vegan options It's also great if you're planning on taking a day trip during your stay. You'll find lots of local tour office that can plan the perfect adventure to the Mayan ruins or Playa del Carmen.
It's the perfect place for more budget-conscious travelers as compared to staying on the beach. From dining at the best restaurants to the accommodations, your pesos go a lot further here.
Pros:
Cost – The only thing missing from the hotels in the Pueblo is the beach. You'll find very modern accommodations with lots of amenities, but much cheaper than the beach.
Nightlife – The Pueblo is one of the top areas for nightlife in Tulum. You'll be within walking distance to the popular Batey Mojito and Guarapo Bar or La Malquerida.
More local – Most locals living in Tulum live in Tulum Town. You'll have a more authentic local experience in the Pueblo.
Cons:
No beach – the biggest downside to staying in The Pueblo is that you won't be near the beach. It can take anywhere from 30mins – 1 hour to get to the beach, depending on the time of day.
Getting around – there is a lot more traffic downtown. While you can walk to most places, if you're taking a taxi, plan for a few extra minutes to make your reservation.
The best hotels to stay in the Pueblo:
KASA Hotel Parota
KASA Hotel Parota has contemporary decorative rooms with a terrace. You'll wake up to complimentary breakfast every morning. It also offers shuttles to the beach clubs and free parking.
Maison Tulum Hotel
You can reach the heart of downtown within minutes when you stay at Maison Tulum Hotel. The guestrooms feature authentic Mexican-style rooms. You can relax on the rooftop terrace.
Stay at a hostel for the most budget-friendly accommodations. Some great hostels in Tulum Town are:
Hostel Che
Hostel Che is a great option with lots of shared spaces to hang out with other guests. It has an outdoor pool and a bar. It offers dorm rooms with bunk beds.
The Weary Traveler Hostel
The Weary Traveler Hotel always has a lively atmosphere. Amenities include a private pool and free breakfast. Ask the staff about availability on tours to Dos Ojos Cenote and the Tulum ruins.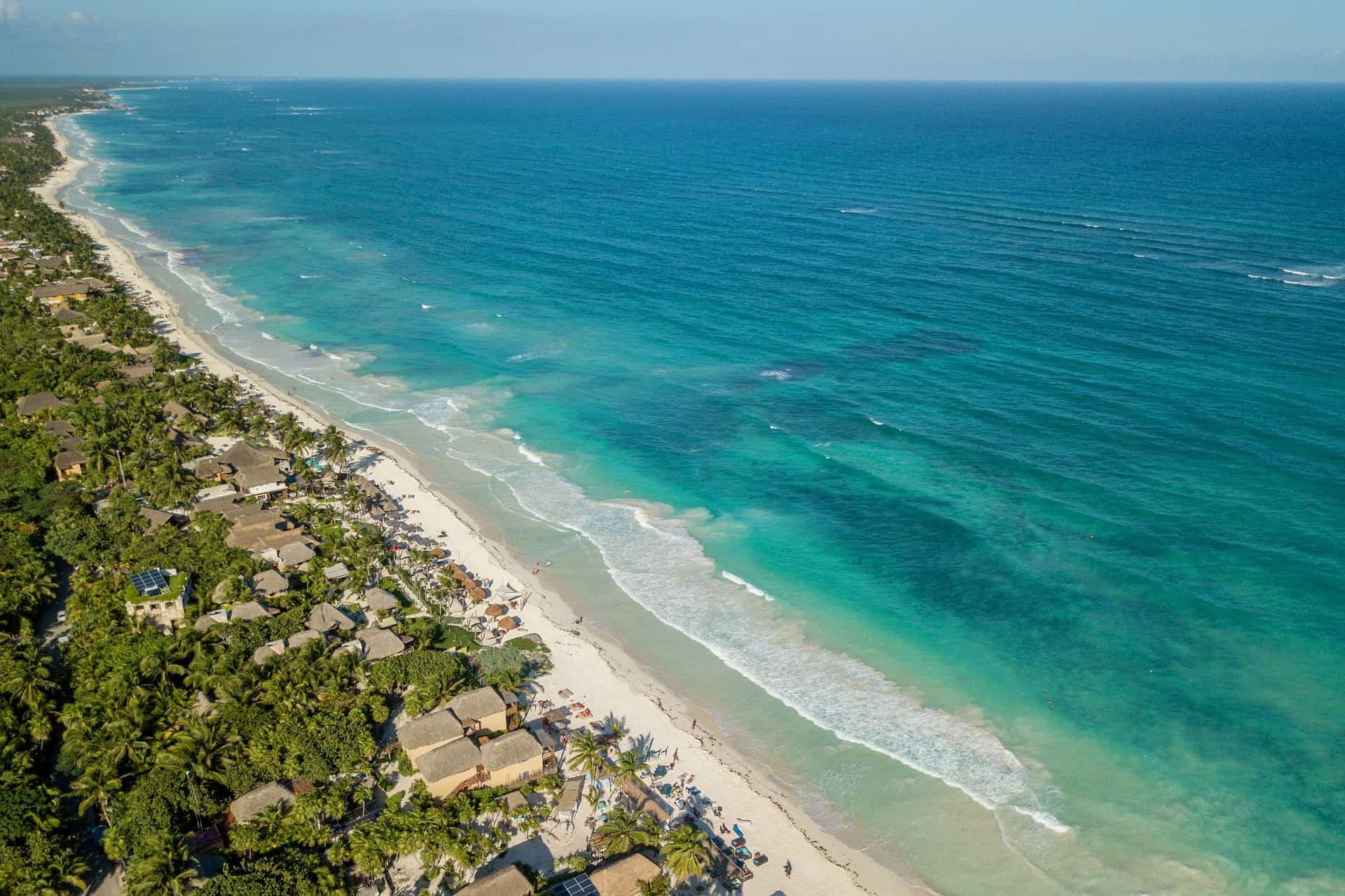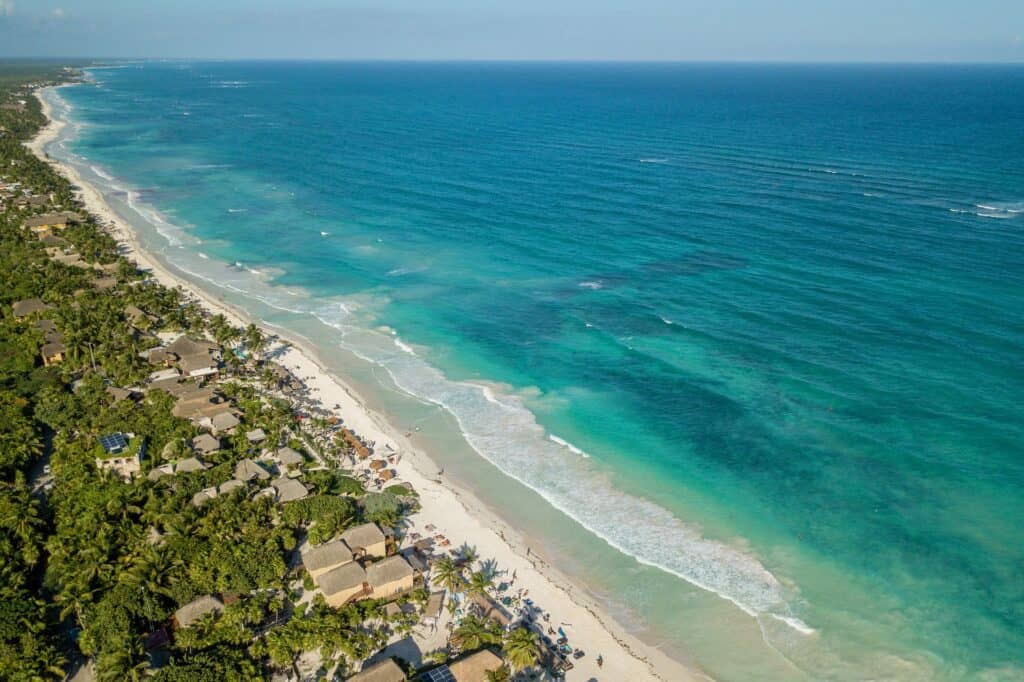 The Beach
The beach is the alternative for places to stay in Tulum. One of the biggest differences from Tulum Town is that it's more expensive. The beach refers to the entire coastal area. The weather varies so make sure you check out the best time to visit Tulum. It's a great area for first time visitors since it has a lot of things to do on the main beach road.
The main road extending along the area is Carretera Tulum-Boca Paila. The beach is a large area that's divided into four different areas, each with its own characteristics:
Whether you're looking to party or enjoy a serene beach environment, you'll find the best accommodations here.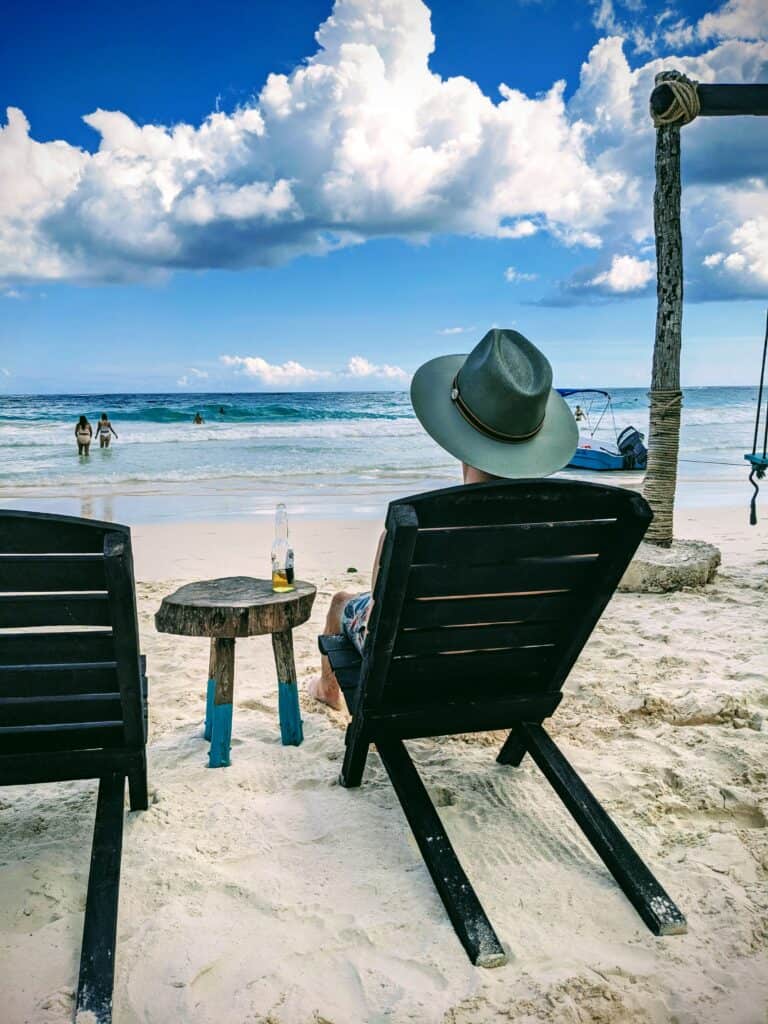 North Beach
Tulum's North Beach is located on the Northern end of the main beach coastline. It's known for having the picturesque white sand beach and clear blue waters. It's the best area to stay in Tulum for travelers planning to spend lots of time on the beach.
Soak up the sun at one of the three main beaches in North Beach. Playa Paraiso, Las Palmas, and Playa Ruinas offer fine white sands and clear water to enjoy. The beaches are the most popular, so you'll always find people hanging out.
Unlike many of the other areas to stay in, North Beach has the least number of accommodations. Although a popular destination, it's one of the least developed parts – it's excellent for experiencing more natural scenery and fewer tourist traps.
Pros:
Easy access to Tulum's best beaches – walk to the beach within minutes
Cheap bars and restaurants
Cons:
Crowded beaches
Fewer bars and restaurants compared to other areas.
The best hotels to stay in North Beach:
Kai Tulum is located on Playa Paraiso with luxury beachfront bungalows. You'll have incredible views of the Caribbean Sea and enjoy eco-friendly amenities. Mezzanine Hotel is located on Playa Las Palmas. It's a four-star hotel with lots of natural light and air. You can upgrade for a sea view balcony or mezzanine.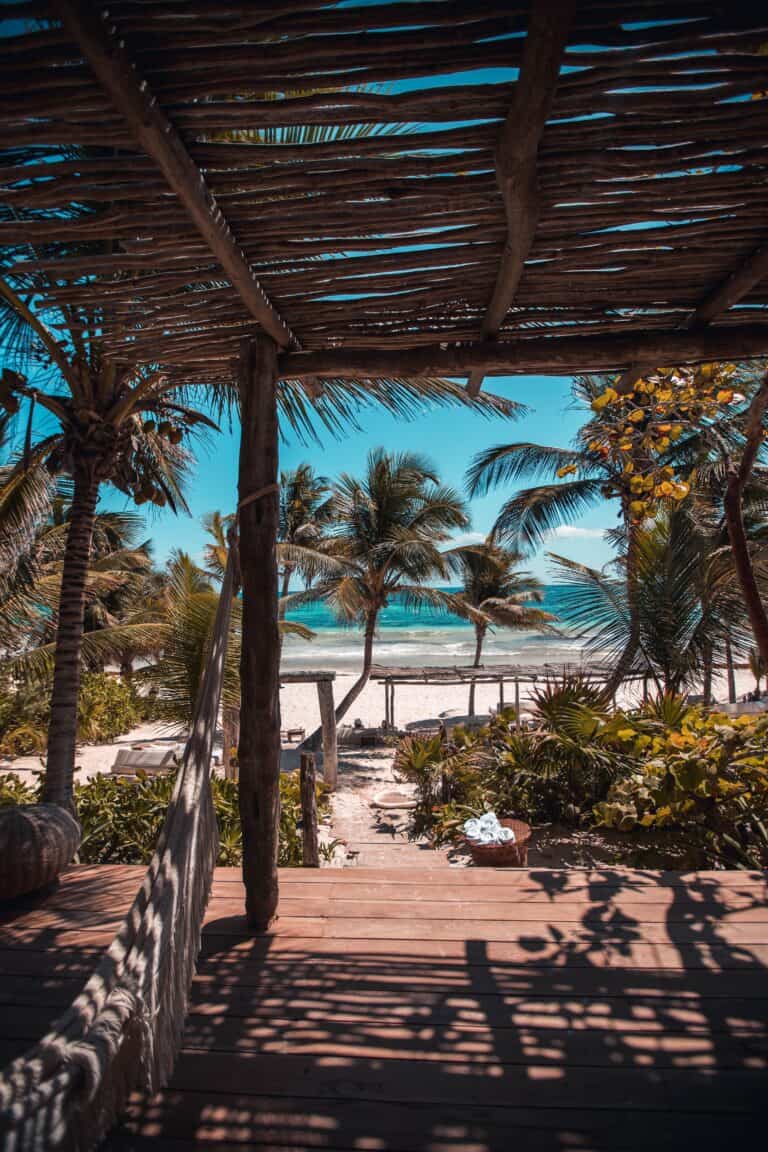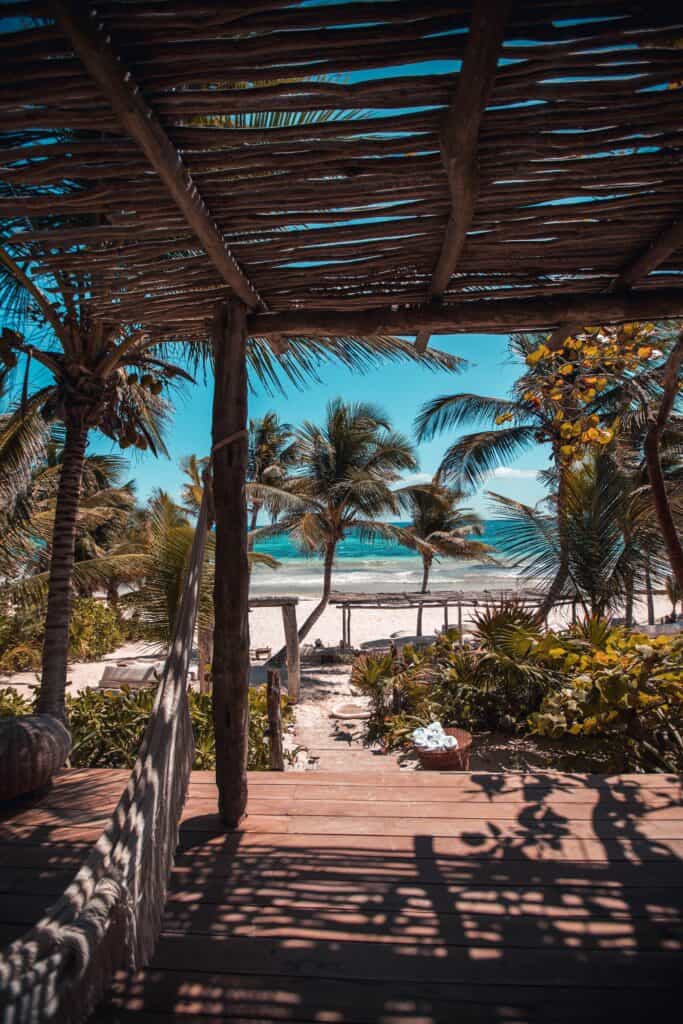 Beach Town
Beach Town is one of the central hubs in Tulum when referring to the beach area. It's located between the North Beach and Middle Beach zones, so you'll get the best of both worlds. It's sandwiched between the Tulum Beach and best nightlife.
Beach Town is part of the Zone Hotelera (or Hotel Zone), where there are lots of hotels, boutique shops, restaurants, bars, and more. It's one of the most budget-friendly areas to stay in Tulum.
Pros:
Budget-friendly – from the hotels to the nightlife, this area is a bit cheaper than other parts of the hotel zone.
Party district – you'll be nearby a lot of the exciting nightlife destinations. Check out Mateos, one of the top places to party in Tulum.
Cons:
Noise – it's great that you'll be nearby lots of places to party, but if you're sensitive to the noise, it might not be the best place to stay.
Traffic – since it's a party district and budget-friendly, Beach Town tends to attract many tourists to stay and play. This is a touristic area and traffic can get bad because there is only one road
Beaches – some of the beaches near Beach Town have a rocky coast. You'll have to go further north or south to find the most picturesque beaches.
The best hotels to stay in Beach Town:
Zamas has a fantastic luxury beach hotel inside the Tulum National Park. You'll have a room featuring modern décor and lots of amenities like free wifi and air conditioning. You can relax in the hammocks on the balcony.
Zalaluna is a three-star hotel with special access to the private beach. It's an adults-only hotel with modern rooms.
Middle Beach
Tulum is a famous party destination in Mexico. Tourists looking to experience the vibrant nightlife should consider staying in Middle Beach. Middle Beach is one of the main hubs for partying in Tulum. You'll have the beach steps away and your favorite bars even closer.
Middle Beach attracts lots of younger people that are looking to have a great time. You'll find the famous Casa Jaguar and many beach clubs on the main beach road. There are lots of hotel accommodations tailored to enjoying the beach vibes and having a great time.
Pros:
Lots of restaurants and shops nearby. It's easy to walk around the area to explore.
Best place to stay if you want to party in Tulum
Cons:
Noise – the proximity to bars and clubs means you might hear the music throughout the night
Not the best public beach in town – partially rocky coastline
The best hotels to stay in Middle Beach:
Ahau Tulum is a stylish hotel with upscale rooms. The beachfront location is perfect to go from beach to party within minutes. Many of the rooms offer sea or garden views. There is also an open-air restaurant onsite.
Coco Tulum is a great option for a boutique hotel with cool cabana-style rooms perfectly designed for a beach setting. Guests have access to the Zen Zone for yoga and meditation.
South Beach
South Beach is at the lower end of the coastal beaches in Tulum. It's one of the best places to stay if you're looking for a more laid-back atmosphere that's not too far away from the party scene.
South Beach is considered the most family-friendly beaches and also one of the most developed areas. You'll find lots of hotels and restaurants in the area. In fact, many areas of the main beach South Playa are lined with beachfront resorts and beach clubs. The beaches are open to the public, but most time only accessible via the hotels.
There are plenty of accommodations to choose from in South Beach.
Pros
The area is less crowded
A quiet place to stay away from lots of parties – just a short walk away
Easy access to the Sian Ka'an Bioreserve
Cons
A popular beach, but chair rentals and cabanas can be costly
Not ideal if you only want to party – there are closer options to the main party areas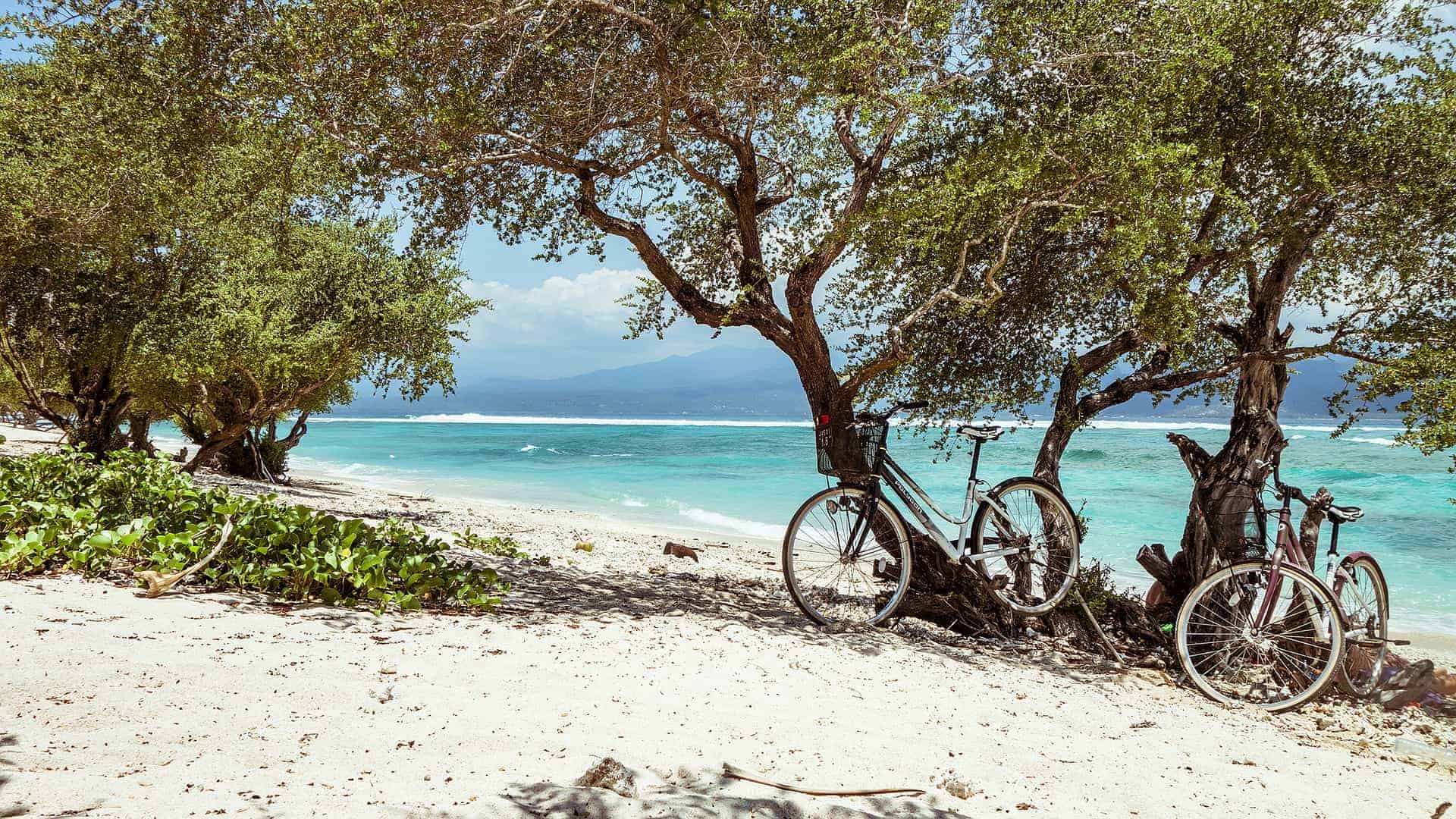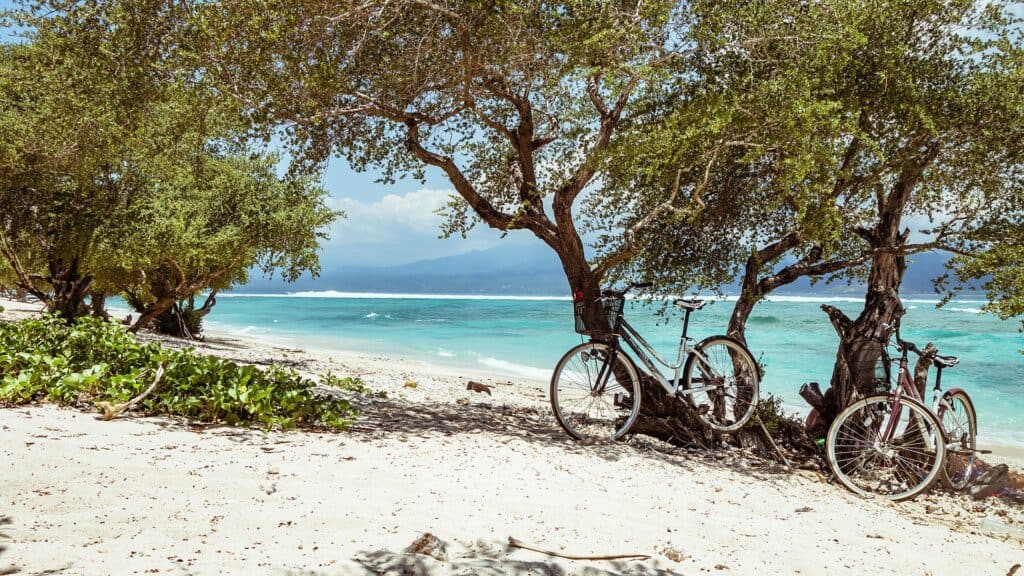 The best hotels to stay in South Beach:
La Zebra is an upscale property with a great location on South Beach. It's known for its luxury and chic atmosphere. You can enjoy amenities like an outdoor pool, spa, hot tub, and more.
Hotel Nômade is a wellness and eco-friendly hotel. It offers lots of unique accommodations like tents and treehouses. You can also find modern rooms and suites. It's an excellent hotel for a holistic stay in Tulum.
So which side would you choose? The Pueblo or The Beach? The good news is that you can't lose with either decision. Both areas have plenty of things to see and do during your visit. And it's only a short drive away between the two.
If you're planning on visiting for a couple of days, stay in both areas and see for yourself which is the best area to stay in Tulum.
If you're thinking about taking a vacation, make sure you know the best time to visit Tulum.
Make sure to check out all the articles about Tulum before you book your trip!
Travel Resources
If you're ready to book your trip, check out the resources below. Make sure to shop around between the different platform to compare prices and find the deal
Airbnb – I've always had a great experience with airbnb. Make sure to check the reviews and the final price before booking.